QHY Driver
As of N.I.N.A. 1.11 version 21.3.13.17 of the QHY SDK is included with N.I.N.A.. Starting with this SDK version, you will need to make sure that your QHY USB driver is updated to at least version 21.2.20 or later by installing the latest QHY driver All-in-One pack. This is because the version of QHY SDK that N.I.N.A. ships with and QHY USB driver saw a portion of their Cypress FX3 IO libraries updated and the two must stay in sync.
To help with this requirement, these versions are included in the Equipment > Camera screen. Additionally, N.I.N.A. will emit a warning level notification if the detected driver version is lower than 2.1.20: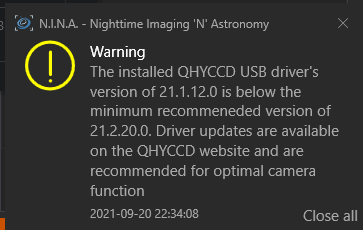 The benefits of this update include improved USB error recovery. This requirement does not apply to cameras that have USB2 interfaces (CCDs, A-Series, and QHY5II 1.25″ cameras).
In case of USB driver update problems#
Some folks have experienced issues updating the USB driver, where it appears that the driver update did not take. There is one thing to try if this is the case:
With the camera disconnected, right click start and open Device Manager
Go to the view menu and select show hidden devices
Expand the AstroImaging Equipment section
Right click QHY5IIISeries_FW, select Properties, and then the Driver tab
Press the Update Driver button, and select search automatically for drivers
Also do steps 4 and 5 for the QHY5IIISeries_IO device
Plug in the camera. Verify that it is on the newer device driver version
After the above steps are done, and barring any deeper issues, the driver and firmware loader for the camera should be updated to the version that was installed. QHY are aware of this issue and are looking into it.